What's your flavor? This page describes each of our beers and how they were developed! To see what is currently available, please visit our online store.
Bloodshot Ryeball IPA | 7.1% ABV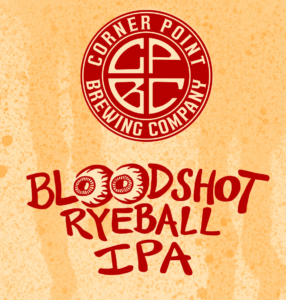 Although this offering was first created in New Mexico, it really came to fruition while driving from New Mexico to Maine; twice. With the help of my wife, Bob Seger, a cat, a dog with a cone on her head, and some seriously bloodshot eyes; this intriguing IPA blossomed. It is generously hopped with Chinook, Cascade, Simcoe, and Columbus hops; and balanced with a malty base and spicy rye backbone. Definitely one of my favorites!
Down the Hatch | 5.3% ABV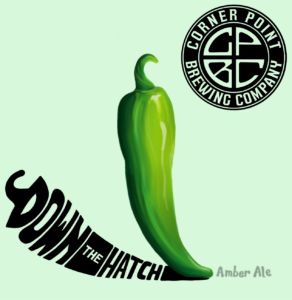 Hatch, New Mexico is world famous for it's green chiles. Every August, the aroma of roasted chiles fills the air. It is the thing I miss most. We still roast fresh chiles at our house and savor in the aroma, if only for a weekend.
Down the Hatch is a light amber ale that will tease your senses with a taste of Hatch. Adding the chiles prior to roasting allows the flavor and aroma to shine, without the heat of the pepper.
Close your eyes, take a sip, and allow the flavor of Hatch to transport you to the chile fields of Southern New Mexico.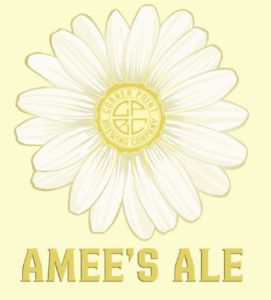 When a close friend asks you to make a lighter beer offering when visiting, you push back as much as possible; but ultimately give in. Amee's Ale is one of my first creations when homebrewing. It combines Pilsen and 2 row malts for a crisp and light finish; then finished with sweet orange peel used to balance out the subtle hop profile. This is definitely a choice for those who prefer the lighter side of craft beer.


Old Town Blonde | 6.3 % ABV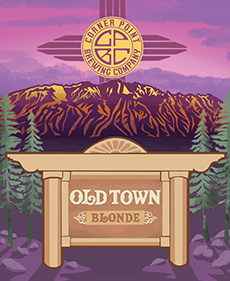 The quaint streets and eclectic shops of Old Town Albuquerque give everyone who visit, a taste of New Mexico. When walking, you get the faint smell of Biscochito; the state cookie of New Mexico. Old Town blonde is a smooth and light blonde that blends Maine grown malt and Golding hops with Biscochito Pinon coffee beans. Enjoy the subtle notes of vanilla and cinnamon in our flagship offering.
Straight Outta Berwick | 6% ABV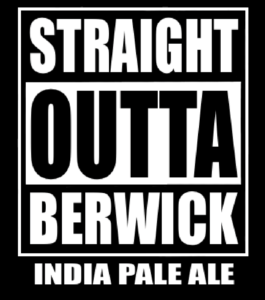 S.O.B. is what happens when you brew a traditional American IPA while jamming out to NWA's 1988 masterpiece; Straight Outta Compton. Ahtanum and Amarillo hops are accentuated by mango puree and balanced by a light malt bill and the bitterness is kept in check. Although Berwick is a long way from Compton; this favorite is our way of staying a bit gangsta!
Ridlon Road Bown | 6.3% ABV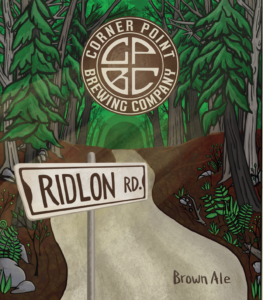 Every town has "that road." Although Ridlon Road is now a paved, built up version of itself; it wasn't when I was young. Ridlon Road used to be where us kids would go to do some campin'; muddin', and partyin'. We would also do some cussin' and drinkin'; but don't tell our parents that. Hints of chocolate and dark roasted barley round out this smooth American Brown Ale. Brown ales can sometimes be forgotten; just like the old days on Ridlon Road. We plan to keep the beer around along with the memories…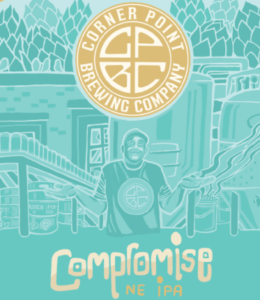 New England style!?! WHAT!?! The name of this creation says it all! People have been pushing me to release a New England style IPA since we opened the doors. Being a traditionalist, I have definitely been dragging my feet on doing so. I tend to be quite stubborn; but even I can learn to compromise. Because of this, Compromise was created and has found its way into the can you are drinking.
This beer has an enormous amount of flaked oats which helps with the mouthfeel and presentation. Citra hops have the lead role; along with a supporting cast of rotating hop varieties. Whirlpool additions and dry hopping are bountiful which provides an aroma that is in your face. DRINK FRESH!! Cheers!
Aroma Joe's Coffee Porter | 5.6% ABV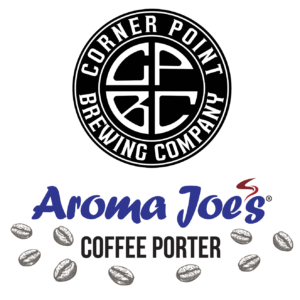 Aroma Joe's fuels the modern world by focusing daily on the customer, the community, and the cup. Here at Corner Point Brewing, we have a similar philosophy; just with our beer. So why not blend the two together!
Vienna malt is the foundation for this robust porter. We then
blend Aroma Joe's coffee and a touch of lactose. This is a collaboration made in coffee heaven! Cheers!
Tularosa Chuck | 5.3% ABV ​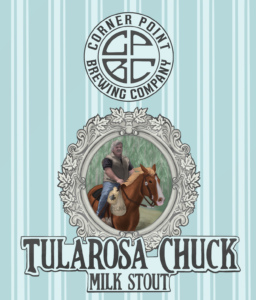 The Southwest is famous for outlaws. Names like Billy the Kid, Buckshot Roberts, Doc Holliday, and Cherokee Bill. Another is Tularosa Chuck Bogdan. Chuck was famous for robbing pecan coaches in Southern New Mexico. Fearing capture, Tularosa Chuck left NM and lived his days out on the family farm in far away, Berwick, Maine.
These days, Chuck's descendants run the farm and maple syrup is what they do best! To pay homage to Chuck, we created a dark milk stout that
combines both New Mexican pecans and Bogdan Farm maple syrup. Take a sip, close your eyes, and let the flavors transport you back to the wild west
.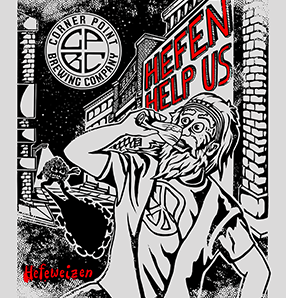 2020 has been one hell of a year! COVID-19 has shut all of us down for an unprecedented amount of time, we are all learning to live a new Normal, and civil unrest is at a boiling point.
Because of this; Hefen Help Us will showcase a rotating label each year. Each label will focus on things impacting our country that year. Although the label will change, what's inside will not. Inside the can will be a perfect blend of German malt and Hallertau hops, along with a classic yeast strain that provides a touch of banana and clove. DRINK UP!!
Maybe; just maybe, Hefen Help Us will get us through this and any other obstacle this world throws at us. Cheers!!
Peeno da Greege | 4.6% ABV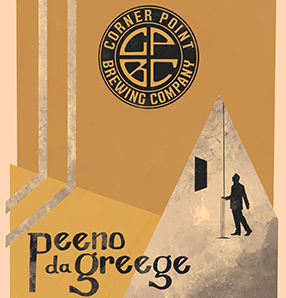 This light American ale was created for enjoyment during the dog days of Summer.
The Pinot Grigio twist was something that was not part of the original recipe. As the temperature outside climbed, we received numerous requests for white wine in the tasting room. The preverbial light bulb went off in my head and I had the thought to age the beer on Pinot Grigio oak chips. We did and viola; Peeno da Greege was born!
The fruity grape aroma and flavor blend well with the slight acidic and dry finish. Drink up; we will make more! Cheers!


Cranberry Meadow | 3.8% ABV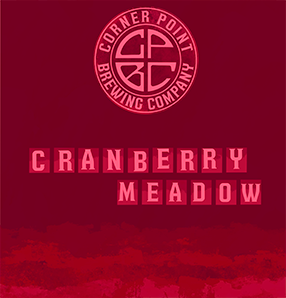 When I was younger, I would walk from my house on Rt. 9 (School St.) down Cranberry Meadow Road. Sometimes to just get away; other times to hang with friends. There are more houses on the road now; but it still has the same feel and charm it did way back then.
In dedication to the road, this golden ale base is blended with copious amounts of cranberry
puree. This provides a slightly tart, very refreshing beer with a pretty cool look.
The ironic aspect is; looking back on it now, I don't ever recall seeing cranberry's on Cranberry Meadow Road… Oh well, enjoy it anyways! Cheers!
The Reconstructed | 5.6% ABV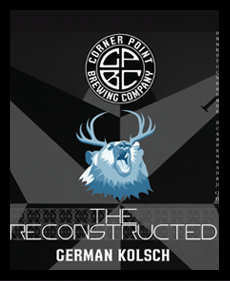 For those of you who have been at Corner Point when Marty England and The Reconstructed have played, you know we have a blast and they certainly blow the roof of the place! All of us here at CPB look forward
to those nights and the house is always packed. Although we are not sure what the future holds for packed houses during live music; we look forward to the days when we can get them back here to play. In honor of Marty, Jesse Dold, Courtney Brocks, Sean Daniels, and Andrew Russell; we have brewed a German Kolsch and properly named it after the band. All
German malts along with Hallertau hops give this Kolsch a traditional taste and feel. Grab a glass, download all of The Reconstructed albums, and jam out with us! Cheers!

Check the band out at thereconstructed.net
Keeping Up with the Joneses | 5.9% ABV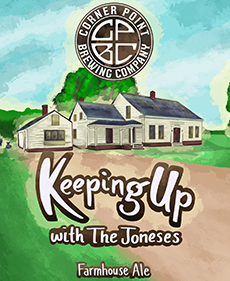 In the time of technology and short attention spans, it's always nice to take a step back and reconnect with nature and a lifestyle that only few people embrace these days.

That's what our own Ashley and her family did. They bought a 250 year old farm. Then rebuilt the existing farmhouse, and are working towards making it a fully functioning farm once again; a chicken, cow, and bail of hay at a time. Alright; maybe more chickens than that…

Enjoy this Farmhouse style ale and think of all the farmers out there trying to keep the fabric of a time long ago still intact. Cheers!
Sullivan Square | 6.6% ABV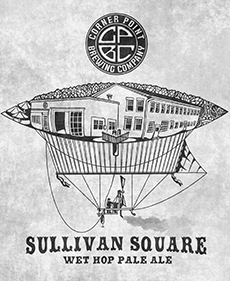 For those of you that don't know, the building we are located in is called Sullivan Square. This building has a very extensive history. It has housed a bar, pinball manufacturer, auto garage and dealership, church; just to name a few. It now has a brewery and a fitness center as the book ends and is longing for someone to turn the original mill into something special.

Back when Sullivan Square was built in the mid 1800's, beer was made primarily with whole cone wet hops; so it is only fitting we pay homage to the past with both the beer and the building. A light bodied pale ale that showcases fresh Cascade hops from The Hop Yard; our friends right up the road in Gorham, Maine. I hope you enjoy it as much as I enjoy brewing it! Cheers!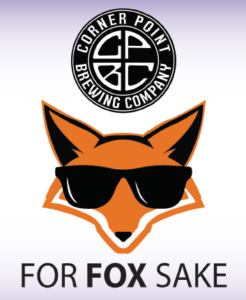 Last year, we teamed up with Sheri Clement to help raise money for her to run the New York City marathon as part of "Team Fox"; which is a grassroots community fundraising program of The Michael J. Fox Foundation.
The foundation raises funds and awareness for Parkinson's research. We have teamed up with Sheri again this year to help raise funds for Parkinson's research.
This wheat beer is heavily dosed with blackberry puree, which gives it a nice purple color and slightly tart finish. For Fox Sake, drink as much as you can, so we can donate as much as we can to help Team Fox!
Sandia Mountain | 4.7% ABV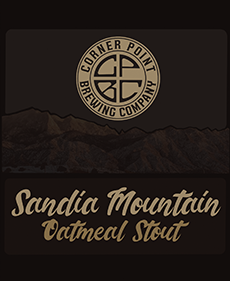 Kelly and I love the ocean for it's calming nature and majestic beauty. When we lived in New Mexico, the Sandia Mountains were our ocean. Something about the mountain brought us peace and tranquility. Whether we were hiking, enjoying the snow in the Winter, riding the tram up to have a drink at High Finance restaurant, or simply staring at the mountains from our backyard; the mountain just made everything better.

We feel this oatmeal stout has similar qualities. It can be enjoyed while hiking, enjoying the snow in the Winter, or just having a drink in your house. You could stare at it as well; but the effect might not be the same as the mountains…Cheers!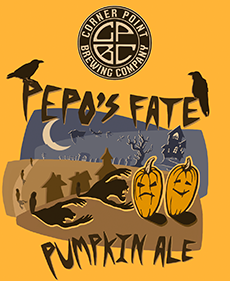 Fall is a beautiful time to enjoy the outdoors here in Maine. The air is cool and the vibrant colors of the leaves as they change are simply breathtaking. Another sign of fall is the release of everything pumpkin.

What you have in your hand is our version of a pumpkin spice beer that has it's own CPB twist on it. We use fresh New Mexican pumpkins that we bake ourselves. We then add seasonal spices and fresh maple syrup made right here in Berwick at Bogdan Farms. Enjoy a few of these while you sit by a fire and watch the leaves falling from the trees. Cheers!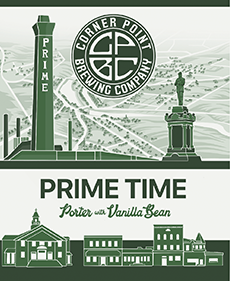 Prime Tanning was a staple here in Berwick for well over 100 years. Although the permanent closing in 2009 was bittersweet for some; it still left a large void in Berwick and a longing for change. The site is now to be the new downtown called the Edge at Berwick. New streets, new buildings, and a new feel will bring welcomed revitalization to this wonderful small town which I was fortunate to grow up in.
Prime Time is a throwback American porter that is lightly infused with Mexican vanilla bean; giving this Berwick born dark porter a slight Southwest kick in the pants!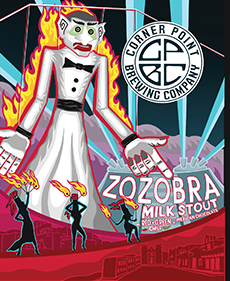 "Zozobra", aka Old Man Gloom, is a 50 feet high marionette effigy that is built and burned during the annual Fiestas de Santa Fe in Santa Fe, New Mexico. As his name suggests, he embodies gloom; by burning him, people destroy the worries and troubles of the previous year in the flames.
We couldn't think of a better way to ring in the new year than releasing a beer that helps destroy anything to do with last year. We added red and green chile to a traditional milk stout; then finished it off with mexican chocolate. Enjoy and feel the calamity that was last year slowly fade away.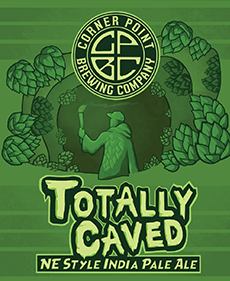 If you know me; you know that I lean towards making clear beer. It took almost two years for me to release a New England style IPA…and it was clear. With mounting pressure and a final push from the boss (my wife), it seems I have "Totally Caved". The beer in your hand starts with a beefed up water profile which provides a soft mouthfeel and subtle hop character.
Adding copious amounts of Galaxy and Citra hops in the whirlpool, along with generous primary fermentation and dry hop additions; we expect this beer to appease to the haze craze masses! Cheers!